Our Referral Services are available in two affordable ways, giving you more hours of care:
Referral Fee: An ongoing hourly referral fee; priced so you can afford the help you need.
Placement Fee: A one-time referral fee for the caregiver you select.
How to Keep Your Costs Lower
Value Care's goal is to keep costs as low as possible and to help you find more affordable caregivers. We know that every extra hour of care makes the difference for our clients.
The total hourly cost for a referred caregiver is comprised of two cost items:
Negotiated Caregiver Fee + Lowest Referral Fee = Total Preferred Cost
Savings From Day One
No advance deposit required
No extra holiday surcharges
No night or weekend surcharges
Special rates for couples
Minimum caregiver visit of four hours
No minimum number of service days
Your savings mean
more hours of
one-to-one care:
Why pay 25% more
elsewhere?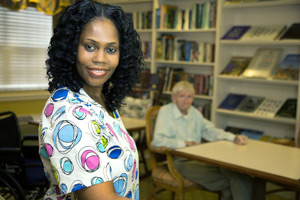 The right caregiver makes all the difference for this client
More Help, Greater Savings.
Value Care at Home is Florida's leader for referring the right caregivers while saving money for our clients. With Value Care, you'll receive compassion and value when you need it most.
Pay Less, Get more Care!
Because of our excellent value, many of our clients come to us with considerable, ongoing needs. Value Care can easily help you save thousands of dollars per year. We save our clients 25% or more off average industry prices.
Introducing our extraordinary commitment to helping you find the right caregiver.
*** EXCLUSIVE TO VALUE CARE ***
We want you to find the right match. If for any reason you are dissatisfied during your first referred caregiver visit, just dismiss the caregiver and Call Us within the first four hours. Not only will you not be charged for this visit, but four hours of your next visit will be FREE with a new referred caregiver. It's that simple!
Applies to first-time clients seeking two or more days of referred care. Visit must include personal, hands-on care. The Value Care referral fee remains the same with each referral. Program is Subject to Change without Notice.
You Deserve Great Savings! Call Us Today to learn more.
Broward County – Fort Lauderdale & Surrounding Areas
954-446-0095
Miami-Dade County – Miami & Surrounding Areas
305-722-2502
Palm Beach County – West Palm Beach & Surrounding Areas
561-420-8088
Toll Free Number
866-969-0095