If you or a loved one is in need of a caring and dependable caregiver in Coral Gables or the surrounding communities, Consider Us at Value Care today.
As a locally owned Nurse Registry operating since 2007, we are dedicated helping the people of Coral Gables find the personalized help they need most. Our First Day Satisfaction GUARANTEE ensures your unique home health care needs will be met and your caregiver will work with dedication and compassion. We expect that you will be 100% satisfied with the caregiver we refer.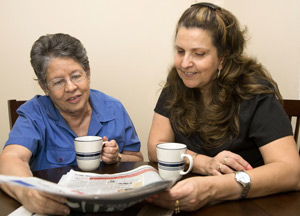 The right caregiver makes all the difference for this client
We listen to your needs and make sure we find you a qualified and compassionate caregiver who is more than willing to help. Prior to referring a caregiver to you, we screen every caregiver to ensure greater experience and fundamental skills. Aside from legally required screenings, we also conduct our own screening procedures on every caregiver.
We call this our FIVE STAR PROMISE. These screening procedures assure caregivers:
Have at least one year of hands on home health care experience.
Have excellent referrals within the home health care industry.
Are able to pass extensive verbal communications tests.
Are able to pass written communication tests.
Have mastered transfer techniques for moving clients between wheelchairs, beds, etc.
We recruit qualified caregivers, and then match personalities, qualifications, and certifications; all based on the needs of our clients. We take the time to consult with each of our clients to find out their individual care needs before referring a dedicated caregiver through our Care Match Program. Whether you need daily home care, a companion at an independent living facility, or personalized elder care services in Coral Gables, Value Care will find you qualified, care at the most affordable costs. We know that every extra hour of care makes the difference.
The information shown on this page is just a summary of some of the reasons families ask Value Care to refer caregivers who provide these and many more care services. For More Detailed Information please click here OR if you prefer please feel free to Call Us with any questions you may have. We are always happy to assist you in any way we can!
With Value Care, your schedule and needs are always considered, so you don't get forced into paying for services you don't need. If you would like to hear more about care in Coral Gables, Call Us Today for a Free Consultation!
Broward County – Fort Lauderdale & Surrounding Areas
954-446-0095
Miami-Dade County – Miami & Surrounding Areas
305-722-2502
Palm Beach County – West Palm Beach & Surrounding Areas
561-420-8088
Toll Free Number
866-969-0095