Compassion does not have to be sacrificed for value. At Value Care, we understand the difficulty of finding trustworthy in-home care. We have developed several successful programs for matching people in need with qualified and compassionate caregivers. Based in several counties of South Florida, we refer dependable caregivers in Coral Springs and the surrounding areas. When matching clients with caregivers, Consider Us for the following:
With your personal care, both quality and compassion are important. Our specials programs help us to be confident we are recommending the most qualified home care professionals out there.
Right from the start, every caregiver who applies to our Nurse Registry is thoroughly screened for qualifications and certifications. But because kindness is a value at our core, Value Care goes above and beyond what is legally required, and further screens caregivers for the following qualities: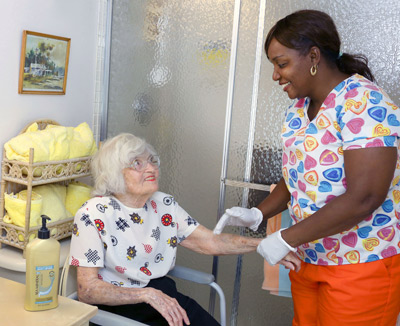 Real Value Care Client and their Caregiver
At least one year of experience
Excellent references
Strong verbal skills
Strong written skills
Ability to pass a challenging transfer technique test
These screenings let us see the bigger picture and not just what is on paper. High quality is great, but with your personal care, compassion must be just as important. In this way, we can be confident we are recommending the most qualified home care professionals out there.
Through our Care Match Program, we offer free consultations with each of our clients to determine their specific care needs. We send out a Customer Relations Professional to discuss the type and amount of care you desire. Whether you want around the clock care in your Coral Springs home, hourly care at an independent living facility, or elderly care in Coral Springs once or twice a week, we will find the best caregiver match for you. We then let you decide what works best for you.
First Day Satisfaction GUARANTEE
We rely on our FIVE STAR PROMISE and First Day Satisfaction GUARANTEE to ensure you're comfortable and happy with the caregiver we referred from the very first visit. After we refer a compassionate caregiver, we follow up with our clients to make sure they are 100% satisfied with their caregiver and would like to keep working together.
The information shown on this page is just a summary of some of the reasons families ask Value Care to refer caregivers who provide these and many more care services. For More Detailed Information please click here OR if you prefer please feel free to Call Us with any questions you may have. We are always happy to assist you in any way we can!
With Value Care, your schedule and needs are considered, so you don't get forced into paying for services you don't need. If you would like to hear more about care in Coral Springs, Call Us Today for a Free Consultation!
Broward County – Fort Lauderdale & Surrounding Areas
954-446-0095
Miami-Dade County – Miami & Surrounding Areas
305-722-2502
Palm Beach County – West Palm Beach & Surrounding Areas
561-420-8088
Toll Free Number
866-969-0095