Kindness and compassion don't have to be sacrificed for value. At Value Care, our goal is to find caring help for you or your loved ones. Since 2007, we have helped thousands of people in need find compassionate care giving at reasonable rates.
We work to match people in need with affordable and caring, qualified caregivers in Deerfield Beach and surrounding communities. Between our FIVE STAR PROMISE, Care Match Program, and First Day Satisfaction GUARANTEE, we make sure all your bases are covered. Consider Us for a qualified and compassionate caregiver.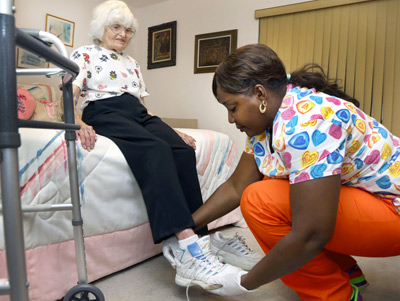 Another Great Match for a Value Care Client
We designed these programs to find the best caregivers, and our ability to match our clients with the right caregivers based on your needs is second to none. We take the time to listen to listen to the needs of our clients before we refer a caregiver. Because of flexible scheduling, clients who are looking for around the clock elder care in Deerfield Beach – or simply someone to help them run errands – will be referred best caregiver for their needs. During an initial free consultation, our Customer Relations Professional will ask questions to learn about your most important needs. These include:
What type of care do you require?
When do you need care the most?
What are your loved one's key daily activities?
What are your loved one's favorite hobbies?
What is your preferred budget for receiving care?
Based on the answers, Value Care finds top rated caregivers and matches them to your needs. You choose the schedule and specific types of care, so that you never have to pay for unneeded services. This is how we are able to offer such great value with our referral service.
The information shown on this page is just a summary of some of the reasons families ask Value Care to refer caregivers who provide these and many more care services. For More Detailed Information please click here OR if you prefer please feel free to Call Us with any questions you may have. We are always happy to assist you in any way we can!
If you or a loved one is in need of affordable and expert home care in Deerfield Beach, Call Us Today for a Free Consultation!
Broward County – Fort Lauderdale & Surrounding Areas
954-446-0095
Miami-Dade County – Miami & Surrounding Areas
305-722-2502
Palm Beach County – West Palm Beach & Surrounding Areas
561-420-8088
Toll Free Number
866-969-0095