Compassionate care should not come at the expense of competent help. Finding caring in-home help can be overwhelming, but you don't have to settle for less. At Value Care, we find compassionate help for those in need. We base our caregiver referral service on honesty and savings, so we can offer you the most qualified options for affordable home care. We offer referrals for elder care support services in Fort Lauderdale and the surrounding communities and have been in operation since 2007.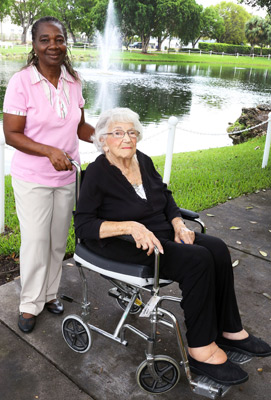 Another Great Match for a Value Care Client
Through our Care Match Program, we listen to our clients' individual needs before recommending qualified and compassionate home caregivers in Fort Lauderdale. We know not every client is the same; while some may need around the clock care, others may just want a companion to go shopping with them a few times a week. Either way, we find caregivers who are more than happy to meet our clients' needs. We also assure the best possible experience through our FIVE STAR PROMISE and First Day Satisfaction GUARANTEE.
For help finding qualified home health care in Fort Lauderdale, call Value Care.
Consider Us when you or a loved one:
Has lost a long time spouse
Has difficulty walking
Is incontinent
Is dissatisfied with current caregivers
Stops driving and is in need of transportation assistance
Was previously in good health but has suffered a recent set back
Needs a break from caring for another loved one
Is suffering from a diminished appetite or weight loss
Has lost or is losing eyesight
Has had a decline in hygiene
Is suffering from confusion, dementia, dizziness, or frequent falls
Is depressed or fears being alone
The information shown on this page is just a summary of some of the reasons families ask Value Care to refer caregivers who provide these and many more care services. For More Detailed Information please click here OR if you prefer please feel free to Call Us with any questions you may have. We are always happy to assist you in any way we can!
If you or someone you love is in need of care, we are available 24/7 to help. We want our clients to be happy with their choice in a caregiver, and we follow up after the first visit to make sure of it. If you or someone you love is in need of care and would like to hear more about our referrals for quality home health care in Fort Lauderdale, Call Us Today.
Broward County – Fort Lauderdale & Surrounding Areas
954-446-0095
Miami-Dade County – Miami & Surrounding Areas
305-722-2502
Palm Beach County – West Palm Beach & Surrounding Areas
561-420-8088
Toll Free Number
866-969-0095