If you need compassionate care that you can be sure of Consider Us at Value Care. We match our clients in Miami Beach with caring home care professionals, best suited for their needs. Every caregiver who registers with us must undergo a selective screening and testing process to ensure they are highly qualified, competent and caring. Our FIVE STAR PROMISE is an assurance that our caregivers exceed the typical expectations of home health workers and that their skills go above and beyond basic requirements.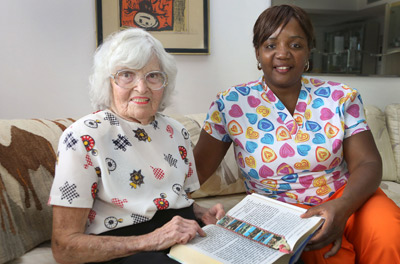 Another Great Match for a Value Care Client
This process is designed to ensure caregivers:
Have at least one year of experience in-home health care.
Have exceptional references within the home health care industry.
Can pass verbal communications tests.
Can pass written communication tests.
Are experienced with transfer techniques and how to safely move clients from wheelchairs to beds or seating, etc.
Our clients are important to us and so is the quality of the caregivers we refer. In fact we are so confident in our ability to screen and match caregivers to our clients' needs that we offer a First Day Satisfaction GUARANTEE. We want to make sure you are completely satisfied with the caregivers we have referred to you.
The caregivers we connect with our clients provide help with:
If you are in need of elder care in Miami Beach, South Beach, North Miami Beach and need extra help at home, in a nursing home, or in a hospital, our Care Match Program connects you with compassionate caregivers who will come to you, wherever and whenever you need them. We take the worry out of finding competent caregivers because we believe our clients should get More Help with Less Worry.
The information shown on this page is just a summary of some of the reasons families ask Value Care to refer caregivers who provide these and many more care services. For More Detailed Information please click here OR if you prefer please feel free to Call Us with any questions you may have. We are always happy to assist you in any way we can!
If you are in need of expert home care in Miami Beach or nearby, Call Us Today for a Free Consultation!
Broward County – Fort Lauderdale & Surrounding Areas
954-446-0095
Miami-Dade County – Miami & Surrounding Areas
305-722-2502
Palm Beach County – West Palm Beach & Surrounding Areas
561-420-8088
Toll Free Number
866-969-0095