For those looking for elder care  services in Miami and surrounding communities, Value Care provides a connection between our clients and qualified, compassionate home health caregivers. Based in Miami, we have been offering our referral services since 2007 and have built our locally owned company on the pillars of quality, honesty, and savings.
We connect qualified caregivers with our clients, according to their true needs. Once caregivers pass our rigorous FIVE STAR PROMISE tests plus legally required screening processes, only then will we match them with our clients. Caregivers who pass these tests are more experienced and better qualified. We believe you should be able to get More Help with Less Worry.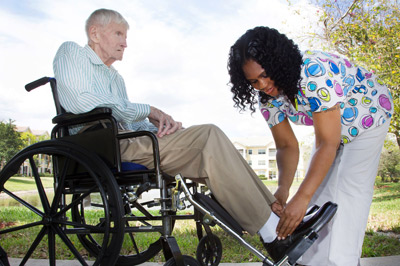 The right caregiver makes all the difference for this client
When we refer our clients a qualified and compassionate caregiver, choices about care and scheduling are now in our clients' hands. We know every individual client has specific needs, and we take the time to listen to them before referring caregivers. Once we find a match, we rely on our First Day Satisfaction GUARANTEE to assure the best possible outcome.
For people in need of home health care in Miami, finding compassionate and qualified care can be overwhelming. Consider Us first because of our Care Match Program and discover how our innovative programs and expert services can help you. During our free consultation with you, we will ask you questions about your loved one's schedule, care needs, hobbies, activities, and what you are looking for in a caregiver. This way, we can be sure we are referring the best-matched caregivers to you.
By letting clients choose their schedules, whether they need long term care or around the clock care, we offer the most affordable rates available. We don't add on extra fees for weekend or holiday visits, and we don't require a minimum amount of days for your care. Our clients don't pay for care they don't need.
Whether you need help at home, in a nursing home or assisted living facility, or anywhere else, we find caregivers who will come to you. The caregivers we connect you with can help with homemaking tasks, personal support, errand assistance, and companionship. Whatever your needs are, Value Care will refer you to the right caregiver. We strongly believe our clients should Pay Less and Get More Care, which is why we are the low cost option for clients in Miami and throughout Florida.
The information shown on this page is just a summary of some of the reasons families ask Value Care to refer caregivers who provide these and many more care services. For More Detailed Information please click here OR if you prefer please feel free to Call Us with any questions you may have. We are always happy to assist you in any way we can!
If you or a loved one is in need of caring and affordable home health care in Miami or the surrounding areas, Call Us Today for a Free Consultation!
Broward County – Fort Lauderdale & Surrounding Areas
954-446-0095
Miami-Dade County – Miami & Surrounding Areas
305-722-2502
Palm Beach County – West Palm Beach & Surrounding Areas
561-420-8088
Toll Free Number
866-969-0095