At Value Care we are dedicated to finding top quality home health care for people in Palm Beach County at the most affordable rates. Clients can save over 25% or more off average industry prices on home health care when working with Value Care At Home. We will never make you pay for care you do not need. Pay Less, Get More Care!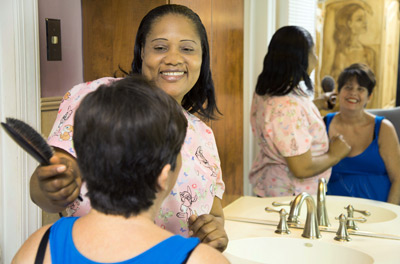 Real Client, true satisfaction
Whether you need around the clock elder care in Palm Beach or just want companionship a couple of times a week, we will find you a compassionate caregiver that fits your schedule. Furthermore, the caregivers we match you with are willing to visit you wherever you need care. From home visits to providing you with care at independent living facilities and hospitals, they will come to you.
When matching you with qualified caregivers in Palm Beach County we take the time to listen to your needs. When you reach out to Value Care we offer a free consultation with one of our Customer Relations Professionals. They will take the time to understand your needs by asking you about your loved one's hobbies, activities, care needs, and personal schedule. Through our Care Match Program we will then find the most qualified home health care professionals to refer to you. This solution is backed by our FIVE STAR PROMISE and First Day Satisfaction GUARANTEE, so you can rest easy knowing your care is in the best possible hands.
We are so confident in our ability to help you find the best care that we guarantee satisfaction on your very first day. We will be in touch after the first visit to make sure you are 100% happy with your choice.
The information shown on this page is just a summary of some of the reasons families ask Value Care to refer caregivers who provide these and many more care services. For More Detailed Information please click here OR if you prefer please feel free to Call Us with any questions you may have. We are always happy to assist you in any way we can!
At Value Care we take the guesswork out of finding qualified home health care companions so you do not have to. We believe all of our clients should get More Help with Less Worry. If you are looking for compassionate home health companions in Palm Beach County, Call Us Today for a Free Consultation!
Broward County – Fort Lauderdale & Surrounding Areas
954-446-0095
Miami-Dade County – Miami & Surrounding Areas
305-722-2502
Palm Beach County – West Palm Beach & Surrounding Areas
561-420-8088
Toll Free Number
866-969-0095