Value Care at Home is a value-driven and client centered Licensed Nurse Registry in the State of Florida with locations in Broward, Martin, Miami-Dade and Palm Beach Counties.
Value care works extensively with Hospice Providers and understands how important it is to help clients who are faced with critical, life changing health issues.
If someone you love is in need of Hospice Care, we will refer you to a Hospice Provider. We can offer your loved one additional support that complements these Hospice Services by referring a compassionate and qualified caregiver.
The caregivers we refer are available wherever you need them most, including at Hospice Care Units and Facilities or in the privacy of your loved one's home. They will be close to your loved one day or night.
If someone you love needs additional Hospice Support we can refer a caregiver who will provide your loved one comfort, dignity, compassion and assistance that helps to maximize their quality of life.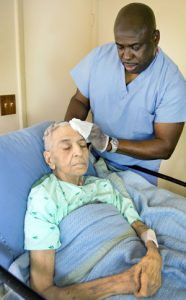 The right caregiver makes all the difference for this client
Call Us Today to see how we can help.
Broward County – Fort Lauderdale & Surrounding Areas
954-446-0095
Miami-Dade County – Miami & Surrounding Areas
305-722-2502
Palm Beach County – West Palm Beach & Surrounding Areas
561-420-8088
Toll Free Number
866-969-0095