Value Care at Home is a value-driven and client centered Licensed Nurse Registry in the State of Florida with locations in Broward, Martin, Miami-Dade and Palm Beach Counties.
For those looking for affordable nanny services for the elderly, Value Care goes above and beyond by matching our clients with fully qualified professional caregivers.
If you are looking for someone to care for your loved one, we encourage you to speak with us to see how we can help. The caregivers we refer offer flexible schedules to suit the needs of our clients.
Whether a client needs care around the clock or someone to help around the home a few times a week, we will match them with the caregiver who will best fit his or her schedule. Professional caregivers that Value Care refers provide a variety of much needed services that are similar to senior nannies, homemaker assistants, companions, and more. With Value Care, every caregiver is extensively screened through a legally required state process, in addition to our own more extensive testing method, which tests experience, references, written and verbal communication abilities and transfer techniques. We go beyond basic legal requirements to make sure caregivers are qualified to our higher standards in credentials, technical skills, and personality.
Value Care is built on matching qualified caregivers with people in need of in home health care regardless of their particular needs or schedule. Because of our size and experience, we are better able to refer experienced caregivers to clients who are faced with progressive diseases and conditions. We thoroughly screen all caregivers who register with us using our FIVE STAR PROMISE to ensure they are legally competent and certified and that they have ample experience and a mastery of the skills required for home care.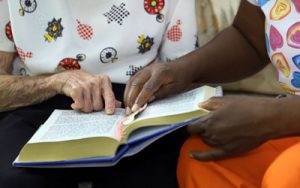 Real Clients, true satisfaction
CONSIDER US
…when your loved one or someone under your care:
Loses their spouse of many years.
Stops driving, or loses a person who used to drive them places.
Was a healthy person but has recently suffered a set-back.
Cares for their spouse, and may just need a break.
Has dizziness or falls.
Has weight loss, or diminished appetite.
Encounters diminished eyesight.
Exhibits a decline in hygiene.
Has confusion or dementia.
Has difficulty walking.
Is incontinent.
Is depressed, or fears being alone.
Expresses dissatisfaction with existing caregivers.
Needs companionship.
The information shown on this page is just a summary of some of the reasons families ask Value Care to refer caregivers who provide these and many more care services. For More Detailed Information please click here OR if you prefer please feel free to Call Us with any questions you may have. We are always happy to assist you in any way we can!
Broward County – Fort Lauderdale & Surrounding Areas
954-446-0095
Miami-Dade County – Miami & Surrounding Areas
305-722-2502
Palm Beach County – West Palm Beach & Surrounding Areas
561-420-8088
Toll Free Number
866-969-0095