Value Care at Home is a value-driven and client centered Licensed Nurse Registry in the State of Florida with locations in Broward, Martin, Miami-Dade and Palm Beach Counties.
After surgery it is often vital to have caring, quality professional help for post surgery home care. In older adults this may necessitate the assistance of an in-home health caregiver. Value Care excels in matching qualified and competent caregivers with people who need post surgery home care. Consider Us for our stringent screening processes so clients will have caregivers that are referred with more experience and core skills.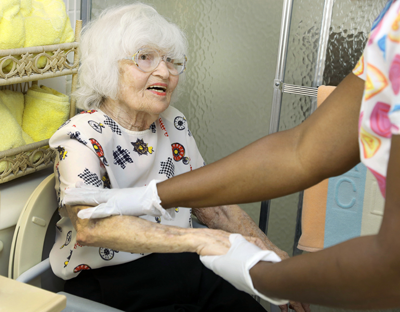 Real Value Care Client and their Caregiver
More Help. Less Worry.
We match our clients with better quality caregivers based on their individual needs and desires Caregivers are screened according to our FIVE STAR PROMISE, and client satisfaction is backed by our First Day Satisfaction GUARANTEE. Whether a client needs help once or twice a week with homecare, or around the clock care, we can help.
Through our Care Match Program we consult with clients to determine their preferred needs and daily tasks that require assistance. We then refer them better qualified and more experienced caregivers. Clients often save 25% or more off typical costs, and can therefore have more hours of much needed care if they choose. Value Care also does not charge upfront deposits, or change our referral fees to higher rates on holidays and weekends.
The information shown on this page is just a summary of some of the reasons families ask Value Care to refer caregivers who provide these and many more care services. For More Detailed Information please click here OR if you prefer please feel free to Call Us with any questions you may have. We are always happy to assist you in any way we can!
Value Care will help your loved one's recovery by referring professionals to help with your post surgery home care. If someone you care about is looking for qualified assistance with post surgery care, Call Us Today for a Free Consultation!
Broward County – Fort Lauderdale & Surrounding Areas
954-446-0095
Miami-Dade County – Miami & Surrounding Areas
305-722-2502
Palm Beach County – West Palm Beach & Surrounding Areas
561-420-8088
Toll Free Number
866-969-0095