The Value Care Advantage
  From The First Day, In Every Way.
Since 2007, thousands have relied on us to refer experienced and qualified caregivers for client-directed, in-home care. Our special programs offer real value to assure your satisfaction. When you hire a care professional referred to you by Value Care, you benefit from our unique recruiting system.
Cost Savings: You save 25% or more off average industry prices.
Control: You decide the continuity of care, the professional caregiver, number of visits and services performed.
Choice: You choose between unlimited hourly or around the clock care referrals.
Accessibility: Receive 24 hours a day, 7 days a week on-call service.
We Help You Find the Right Caregiver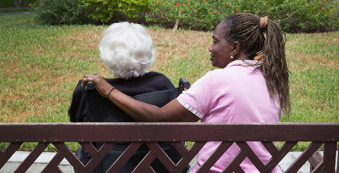 Real Value Care Client and her Caregiver
We RECRUIT, interview and carefully screen experienced caregivers in person, with our dedicated referral specialist team.
We VERIFY that every caregiver meets State of Florida requirements.
We MATCH you with the best professional caregiver using our Care Match program— designed to thoroughly understand your care needs and confirm your satisfaction in the important first days of your relationship with your referred caregiver.
Our FIVE STAR PROMISE: Background checks and testing unique to our industry that go well above and beyond State requirements.
Value Care's Five-Star
RECRUITING BENCHMARKS

Minimum of 1 year hands-on experience
Positive work references/recommendations
Verbal Communications Test
Written Competency Test
Challenging Transfer Technique Test
State of Florida requirements include:
National FBI Criminal Background Screening
Work Authorization
Home Health Aide Course Certificate
CPR Card & AIDS/OSHA Course
Physical Exam & Chest X-ray
Our Referral Services are available in two affordable ways, giving you more hours of care:
Referral Fee: An ongoing hourly referral fee; priced so you can afford the help you need.
Placement Fee: A one-time referral fee for the caregiver you select.
How to Keep Your Costs Lower
Value Care's goal is to keep costs as low as possible and to help you find more affordable caregivers. We know that every extra hour of care makes the difference for our clients.
The total hourly cost for a referred caregiver is comprised of two cost items:
Negotiated Caregiver Fee + Lowest Referral Fee = Total Preferred Cost
Savings From Day One
No advance deposit required
No extra holiday surcharges
No night or weekend surcharges
Special rates for couples
Minimum caregiver visit of four hours
No minimum number of service days
Your savings mean
more hours of
one-to-one care:
Why pay 25% more
elsewhere?
IN BROWARD
6803 West Commercial Blvd
Tamarac, FL 33319
Tel: (954) 446-0095
Fax: (954) 446-0096
Lic. #NR30211317
IN MIAMI-DADE:
7930 NW 36th Street, Suite 27
Doral, FL 33166
Tel: (305) 722-2502
Fax: (305) 722-2503
Lic. #NR30211399
IN PALM BEACH:
1301 W. Boynton Beach Blvd #9
Boynton Beach, FL 33426
Tel: (561) 420-8088
Fax: (561) 420-8099
Lic. #NR30211408
IN TREASURE COAST:
10125 S. Federal Hwy.
Port St. Lucie, FL 34952
Tel: (772) 600-2268
Fax: (772) 600-0272
Lic. #NR30212091
Treasure Coast Caregivers
June 11, 2015